SBI Landscaping provides design and build services for your outdoor projects. Talk to one of our team members and ask for a free consultation.
Our skilled team can help you design then build a deck to suit your needs using any of the current products on the market today, including spruce, treated, cedar and composite lumber. All decks are guaranteed for five years, but with proper care and upkeep, can last much longer.
We have a team dedicated to building fences to compliment your yard with your choice of current product(s) including spruce, treated, cedar and composite lumber. Our fences are guaranteed for five years and we suggest a care and maintenance guide for longer lasting results.
Enjoy your yard longer and create an inviting and warm outdoor entertaining space for you and your family to enjoy. Whether offering shade or simply decorative, we will help design, then construct your preference out of some of the most durable products available today.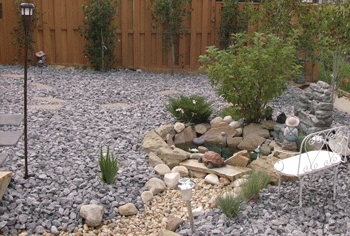 Xeriscape landscaping incorporates seven basic principles which lead to saving water:
Planning and Design.

Soil Analysis.

Practical Turf Areas.

Appropriate Plant Selection.

Efficient Irrigation.

Use of Mulches.

Appropriate Maintenance.
By incorporating these seven principles, you can help preserve our most precious natural resource - water. Xeriscape landscapes need not be cactus and rock gardens. They can be green, cool landscapes full of beautiful plants maintained with water-efficient practices. The same green-style landscape which we are accustomed to can be achieved and still conserve water. Xeriscape's have minimal pest and disease problems and thrives with little fertilization. Low maintenance is required for this landscaping technique which saves you time and money!
Rocks can be incorporated into any design as steps, retaining walls, garden edging, fire pits and water features. Your rock choice and what you can do in your garden is unlimited.
SBI Landscaping will design a professional landscape that exceeds your expectations and meets your needs. An initial consultation between yourself and our professional landscape designer will take place to gather and suggest ideas to start creating a unique design to fit the vision for your yard. Our landscape designer will then take your ideas and add their own to create a design of your yard. A meeting will then take place to discuss any final changes to the design and ensure the costs are within your budget before construction begins. Our goal is to create a landscape within your property that is functional and exceeds your expectations.
Call to talk to one of our professional landscape designers, and get started down the right path in landscaping your yard.
Turfgrass Seeding
From high quality golf turfgrass to natural or prairie settings, SBI Landscaping offers turfgrass seeding for any size area including individual residences and large acreage developments or commercial lots. We prepare your soil for the greatest possibility of seed germination and turf survival. We can also implement a fertilizing program to promote initial and ongoing maximum turf quality. There are various blends of seed to choose from, or we can custom mix anything to meet your requirements. Specific blends include combinations of variations in height, growth rate, color, texture and drought tolerance.

If you are unsure of your specific site requirements, we also offer topographical analysis (slope, grade, drainage patterns) to determine the best type and blend of seed suited to your specific location. The rate of germination and turf growth depends on the amount of water received, so if your site is irrigated or you are going to depend on Mother Nature we can recommend the best seed for you.

As the customer, you have the option to choose the level of service you require.
TESTIMONIAL:
​
In the summer of 2016, we contracted SBI to re -do an 800 ft. sq. deck on the back of our house (new joists, Trex deck material, and new railings and stairs). In addition, we added a 1000 ft. sq. patio on the ground level below the deck – essentially new construction.
We provided some of the materials, and did some of the prep. work ourselves, with Scott, and the team at SBI working and contributing ideas as we went along. We were very pleased with the input provided by SBI as well as the work ethic and professionalism exhibited by SBI.
The job was started when planned, and the team did not leave until it was completed. It was a pleasure to have them around during the project.
We were very pleased with the landscaping, construction, and finished product. In the summer of 2017, we elected to expand and replace the deck material on our front deck, as well as re-do the sidewalk with pavers, plus remove wooden tie retaining walls across the front of our house and in a traffic circle and replace with stone. It was an easy decision to select SBI to do the work. This was a fairly large job – which required some specialized equipment and skilled operation of same. SBI had all the necessary equipment and skilled operators to do the job well, with minimum impact to the lawns and driveway. Again we were pleased to have the same team working on this project as well.
The end result exceeded our expectations.
In summary, we would not hesitate to recommend SBI based on our experience with two fairly large projects. They were very professional, came when agreed and did not leave either project during the construction – with the exception of some short weather delays. The work to be done was described in advance, quoted accordingly, and completed in a timely fashion at the
agreed upon figure.
The McGregors
START PLANNING NOW
and make the most of summer!
Contact us to help us make your dream back yard a reality!